Kira McKeague • July 10th, 2020
Are you considering taking up a new craft, but have no idea what you might enjoy? Check out our list of 5 popular crafts and resources to help you get started!
It goes without saying that this whole Covid-19 pandemic thing has been a real drag, but many people have been finding ways to make the best of their time cooped up in quarantine by learning new skills, upgrading their existing areas of expertise, taking on new hobbies, or learning arts and crafts. Handcrafting is a fantastic way to reduce stress by engaging mind and body, boosting feel-good brain chemicals, and feeling a sense of accomplishment and delight when you create something new. Not only are you giving your mental health a gift, but your creations will make amazing, thoughtful gifts for your loved ones!
Scrapbooking
If you're wondering what in the world scrapbooking is, the answer is that it's anything you want it to be, and it doesn't require any special skills. Some people use scrapbooking to create personalized photo albums or record precious memories, but others use scrapbooking to create a visual journal, collage, or collection of favorite quotes or poems. Grab whichever mediums appeal most to you, there are no rules! Ink, paint, magazine clippings, stamps, stickers, pressed flowers – the sky's the limit. Etsy is a great place to find downloadable patterns, textures, clip art, and supplies to satisfy all your scrapbooking whims.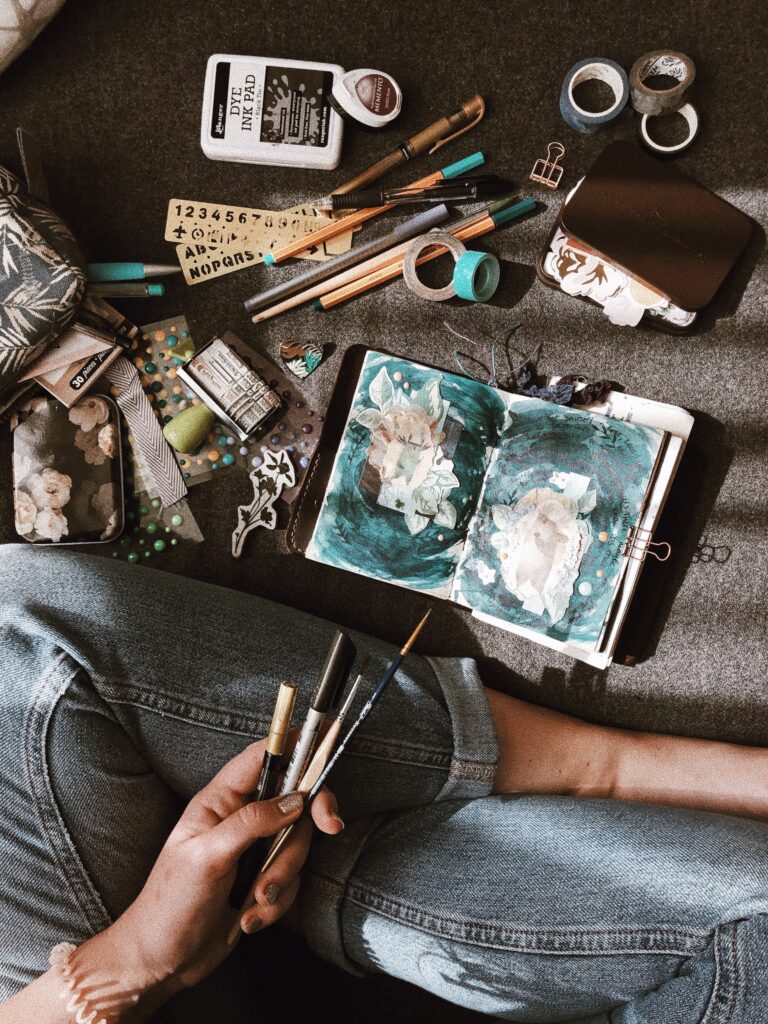 Pottery
If the word "pottery" brings to mind that steamy scene from the movie Ghost with Demi Moore and the spirit of Patrick Swayze, you're not alone. While the kind of pottery Demi was working on – involving a spinning wheel and a kiln – can be a pricey hobby, you can generally find local classes at activity centers that allow you to use their studio and equipment. Since that option is not so practical during a pandemic, you can get started getting a feel for clay work by creating simple pieces at home using oven-baked or air-dry clay.
Sculpdit.com sells great kits with everything you need to begin simple projects at home with air-dry clay. You're not limited to pots, either – try making practical objects like pencil cups and ring holders, or decorative figurines, paperweights, and bookends. (Patrick Swayze's ghost not included, but you can always use your imagination.)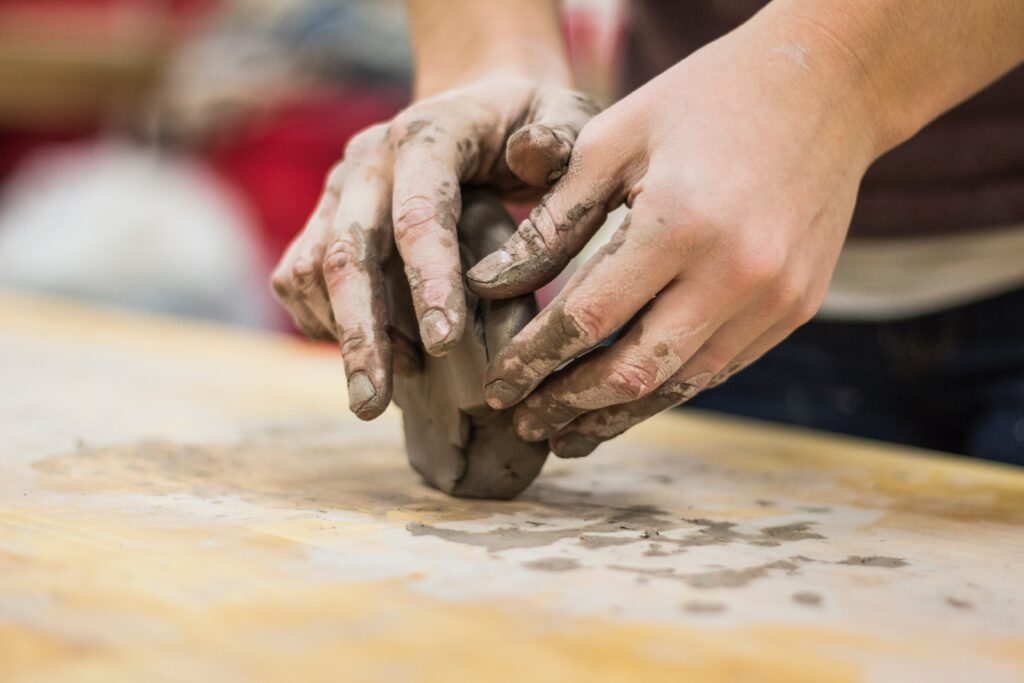 Crochet
If you're wondering the difference between crochet and knitting: crochet is easier and uses hooks instead of long needles to create loops of yarn. Crochet is a repetitive, soothing activity- perfect for kicking back on your couch while taking in your favorite podcast. You can get your start by learning the ropes (or yarns, in this case) of how to crochet with simple YouTube videos like this one.

Patterns are all the rage on the internet nowadays, widely available on sites like Etsy. With crochet, not only can you create blankets, shawls, and beanies, but also home decor items like plant holders and this DIY Cactus Amigurumi Knit & Crochet Kit from Darn Good Yarn. Limited budget? DIY & Craft has 120 free crochet patterns for beginners here.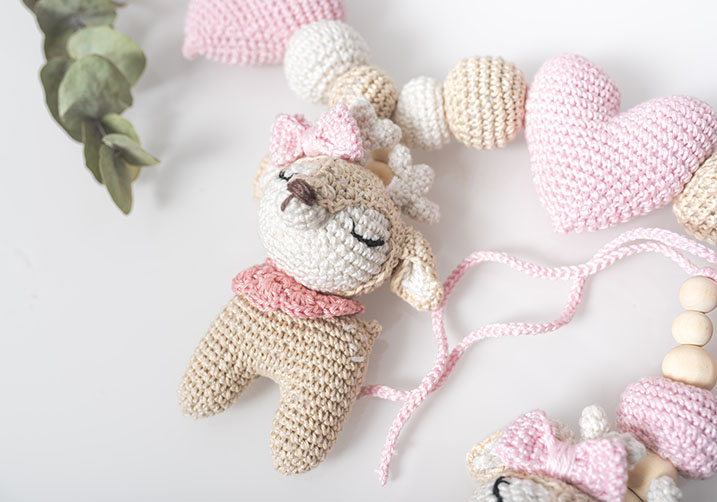 Candlemaking
Candlemaking is super popular right now, and for good reason! Not only is it therapeutic to make them, but you can also choose which colors and fragrances you'd like to use. Some spiritual types even add herbs and crystals that correspond to different intentions such as "abundance" and "peace".

While it isn't the cheapest of crafts to take up, you can get started with a simple starter kit for around 40-70 bucks from sites like Pro Candle Supplies. Candle making can be lucrative, as well. Your best bet would be to sell them in person at craft fairs, farmer's markets, or through local gift shops because selling them online can be quite costly to ship. If you get started with candle making now, you'll have plenty of stock to sell once we're past the pandemic!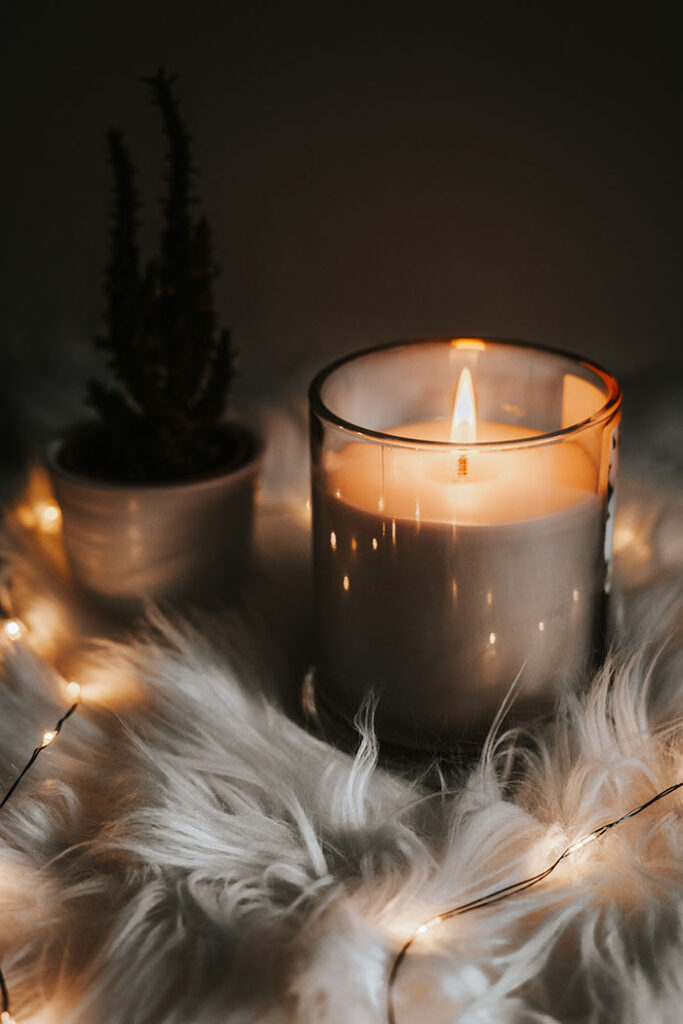 Cross Stitch
Cross-stitching is simple to learn and a lot of fun to do. The focus and repetitive motions help to soothe away stress, as well. Patterns are widely available and materials such as hoops, cloth, embroidery floss, and needles are generally inexpensive. While typically cute or decorative designs are most commonly seen, a current trend is to create humorous cross-stitch where classic platitudes are rewritten to include obscenities juxtaposed with that "country cottage" aesthetic for humorous irony.

To get started, you can snag some instructions for free online, such as this beginner's guide from A Cross Stitch in Time. As with crochet, Etsy is a great resource for starter kits, including mega-cute patterns for beginners wanting to try their hand at cross-stitching without a major financial investment.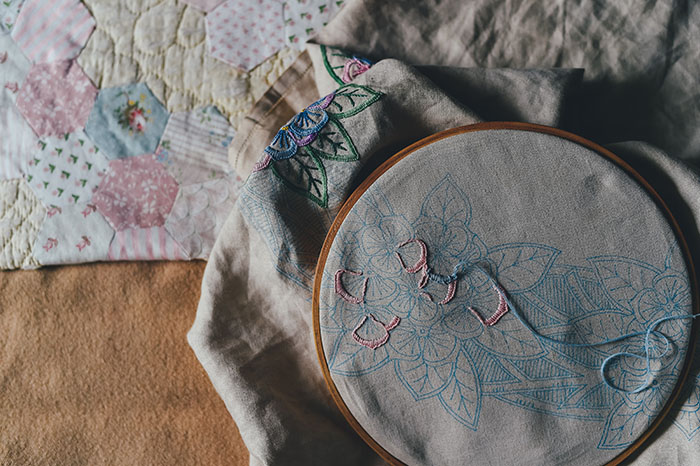 And there we have it! Are you inspired to try something new to keep yourself entertained and relaxed while you're stuck in your house? Even if you never considered yourself "artistic" or "creative" before, these crafts are for all skill levels. So get out there (socially distanced, of course) and make something cool.