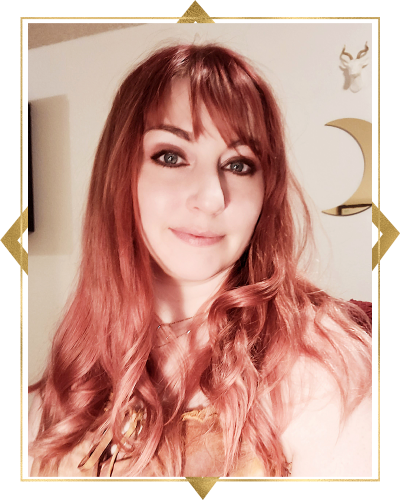 Hi!  I'm Kira Carina McKeague. I am a multimedia artist and designer from Las Vegas, Nevada.
I have been working with the Adobe Creative Suite for 20 years now, and completed my BA in Multimedia Design in 2010. I also have an AA in Archaeology, because why not?
I have an extensive background in administrative work, digital marketing, content repurposing and e-commerce. I began helping small women-owned businesses to establish an online presence, branding and SEO to bring in new clients, and it is always a very rewarding experience to see their businesses grow!

I work with coaches, therapists, online course creators, trainers, artists, photographers and any other businesses who need my help creating their online "empire" and bringing in traffic.
I wanted to create a career for myself utilizing all of my skills to continue helping busy entrepreneurs, businesses and creators with the tasks that they simply don't have the time or technical skills to accomplish. And so, after completing Esther Inman's Virtual Assistant Internship, Astraea VA was born!
Adobe Creative Suite– Illustrator, Photoshop, InDesign, Lightroom
Audacity– for podcast editing
Web and print graphic design– 20 years experience
Content Creation and Repurposing
Blogging
Copywriting– For product descriptions, Website copy and more
WordPress/Wix Web Design
Woocommerce
Shopify
Print on demand setup and integration- For Woocommerce and Etsy
Email Marketing and List Management Platforms– Klaviyo, ConvertKit, Keap, Remarkety
Project Management Platforms– Trello and Asana
Photo retouching, editing and compositing
Administrative and Office Assistant experience
Social Media Proficiency– Business Facebook pages, Group management, Pinterest boards, Instagram posts, Twitter, Hashtag research, Scheduling
Local business web promotion– Increase Google ranking and traffic, Analytics setup
Research Writing and Creative Writing
Copy editing/proofreading
Catalog, brochure and ebook layout design for print or web
Canva– For social media graphics and templates
Kartra- Landing Pages, Email Campaigns
Online Course Building- Learn Worlds and Lifter LMS
Planoly, Buffer, Later, Tailwind and other social media scheduling platforms
"I reached out to Kira when it was time to update my client planner. She listened to all of my disjointed ideas and made my vision come to life! She added so many little accents that took my client planner to the next level. Kira made recommendations of things to change which were brilliant and suggestions that I'd never even thought about! Since Kira redesigned my client planner my booking percentages have increased. I highly recommend Kira for all of your graphic design needs"~ Terri Zachea • Grace in Lace Boudoir
"Kira was instrumental in helping my business grow. She is a jack of all trades and her patience with explaining things in a way I can understand was so appreciated. Her attention to detail and dedication to her clients' individual needs is appreciated." ~Elisa Rivera, Power of Dog Training
"Kira taught me how to use Photoshop, which I am forever grateful for. But sometimes, however, when I get super busy, I will only trust Kira to edit my clients' images. And when the editing is above my skill level…Kira is my go-to girl! I would recommend her for all of your photo editing needs. She is quick, professional and amazing!"~Terri Zachea • Grace in Lace Boudoir and Grace in Everything Photography